1. Influencer Connections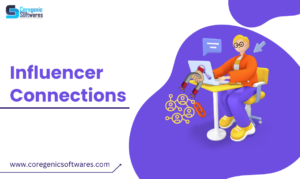 Influencer marketing increased significantly in 2022, and this tendency will only intensify in 2023. Influencer marketing, once the purview of a select few marketers, is now the go-to tactic for virtually every company with an online presence. Increased sales and brand exposure are two benefits that influencer marketing partnerships offer businesses.
Your marketing plan will benefit from establishing long-term or multiple influencer relationships. Influencers can produce material that can be utilized in your marketing initiatives and have a sizable following. They are a great approach to connecting with audiences since their followers trust them.
However, companies should exercise caution when deciding who influencers to collaborate with. With this kind of marketing, marketers run the risk of failure since the individual has a different audience or reach than anticipated and wouldn't help the brand.
2. Chatbots are going to get more advanced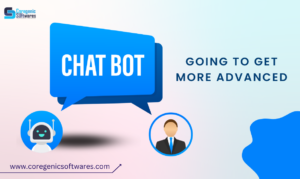 Chatbots are typically used to offer customer care or advertise a good or service. They simulate human communication. Chatbots will advance in sophistication and realism in 2023, enhancing their value to enterprises.
Chatbots will be able to tackle more difficult tasks and inquiries as they become more lifelike. This will satisfy the requirement for an immediate answer, interaction, and human fulfillment as well as free up human customer support agents to handle trickier problems.
3. The popularity of live streaming will increase in the future
Due to the popularity of social media sites like TikTok, Snapchat, and Instagram that offer live video content, live streaming is expanding. Live streaming will continue to grow in popularity in 2023 as more companies use it to connect with Millennials and their target audiences.
Consumers streamed entertainment on mobile devices for 548 billion hours in 2021. Live streaming makes influencer marketing even more effective by enabling viewers to interact with influencers who discuss and showcase items in person.
4. The importance of personalized marketing will increase
Personalization in marketing will be more crucial than ever in 2023 as companies vie for customers' attention. Customers are demanding more customized experiences as a result of the intense competition. Businesses will need to gather data about their customers in order to design tailored marketing campaigns in order to meet these objectives, as opposed to using the same old coupons or generic sales pitches.
To stay relevant, marketers will need to change quickly. In 2023, marketers won't just need to design successful campaigns; they'll also need to make sure that their material is timely and pertinent.
5. Being Socially Responsive
We noticed an increase in brands emphasizing social responsibility in 2022. As more businesses become conscious of their effects on the world and how they can help improve it, this trend will only intensify.
According to research, more than half of American consumers now consider their values when making purchases, and 66% are willing to pay more for products from companies that show social responsibility.
6. Enhancing the User Experience
Your website's or app's interface and user experience may make the difference between gaining traction and failing to draw in clients. Don't confuse customers with too much information on the major landing pages; instead, keep things straightforward with an easy-to-use navigation structure. Since more than half of visitors globally browse the web on their phones, it is becoming more and more crucial to optimize your website for mobile.
7. Content created by users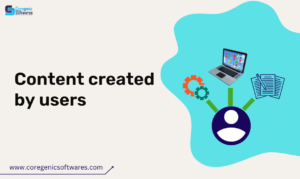 In today's digital environment, user-generated content (UGC) is one of the most significant elements. UGC, as opposed to typical advertisements or branded material that marketers produce and disseminate (TikTok trends vs. #OOTD postings), is produced by customers. By producing their own unboxing videos, beauty reviews, hashtags for branded photographs, and other forms of user-generated content, some firms have benefited from it.
User-generated content may elevate authenticity to a new level because it makes your brand visible to new audiences and fosters a closer relationship with current clients. Consumers are actually more likely to believe content published by other people than by brands. demonstrating that now is the ideal time to give authenticity top priority in your marketing plan.
8. Outsourcing of Digital Marketing Increases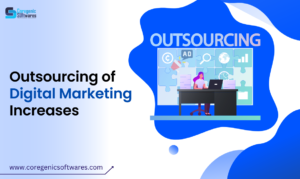 No matter how big or small your organization is, outsourcing has advantages. No business wants to miss out on opportunities because they lack the necessary internal resources. Instead, they choose the most qualified individuals who are up to the job and add them to the team.
Why not hire outside aid from digital marketing organizations if you need additional assistance with marketing? Outsourcing could be a make-or-break chance for small firms and start-ups lacking in this area of expertise to acquire traction over their rivals or vanish into oblivion.
About Coregenic Softwares – Coregenic Softwares is a global-based Digital Marketing and IT solutions provider. We are a team of highly professionals who aim to provide your organization with every help in Digital marketing and the IT field. We have successfully worked with 1000+ organizations making them smile.