The IT Industry has many web development programming languages such as Java, Python, C, C++, and Javascript. However, Developers are more inclined towards the interactivity provided by JavaScript. 95 percent of the total website in today's world have used JavaScript.
JavaScript trends in 2020
According to Github's October 2020 report, JavaScript is by far the most used language.
What Is JavaScript?
JavaScript is a scripting or programming language that allows you to implement complex features on web pages.
You can assume that JavaScript is probably used whenever a web page displays anything other than static information for you to look at, such as timely content updates, interactive maps, animated 2D/3D visuals, scrolling video jukeboxes, etc.
Javascript is a versatile and strong language that allows developers to add code almost anywhere within the HTML code of a web page.
What is a JavaScript Framework
In essence, a JavaScript framework is a set of pre-written code libraries that programmers may use to create a website or app framework more quickly. A web framework, such as a JavaScript framework, is designed to shorten development times and minimize the amount of repetitive, routine work that developers must do.
Consider a manufacturer of mobile phones and assume that they must produce every single element they use to better understand frameworks. It would take a lot of work to do this because they would have to develop the screen, battery, camera, and all the other components of a phone.
Imagine if they had to do this for every new phone model that was released each month. The procedure will be incredibly ineffective. They may design the phone's circuit board, which serves as the foundation on which other components are installed, and then procure the screen, camera, and battery from different suppliers to get around this.
The difference between a JavaScript framework and a JavaScript library must be understood. A framework is made up of several libraries organized in a way that allows programmers to contribute their code to it. A library, on the other hand, offers more of a customized solution to a certain issue.
What Sets a JavaScript Framework Apart from a JavaScript Library?
A Js library is made up of a variety of functions that can be used by an application or website to carry out particular tasks. As a result, it offers predefined capabilities to speed up the creation of websites and applications.
Contrarily, the JavaScript framework is more open-source. The framework cannot be used by the developers to accomplish a task. It establishes the framework and then establishes how a website or application will be designed.
Advantages of the JavaScript Framework
Trusted
It is extremely straightforward for someone who works in coding every day to master this method because it is so simple.
Reduces time
JavaScript frameworks allow developers to work faster and more efficiently. Frameworks facilitate developers' productivity, allowing them to finish projects more quickly.
Universal acceptance
Currently, it is the programming language that all web developers utilize the most.
Imperative and structured
The structure of javascript is one of its most praised features. JavaScript includes block scoping in addition to functions, which is a feature not present in C. Because of the use of control flow (if and else statements), the syntax is referred to as structured.
Dynamic
The only scripting language that the browser can understand is JavaScript, which allows programmers to properly develop the browser.
Functional
Anonymous functions are supported by Javascript frameworks. In JavaScript, control flow (if and else statements) is employed in object-nested functions.
Can Lower Costs
The cost of constructing a website or web application from scratch is almost always higher than using a JavaScript framework. Many popular frameworks are open-source, so developers can use them for free.
Community Support
Support from the Community Popular JavaScript frameworks is upheld by a vibrant community of programmers who are available to respond to queries and assist with problem-solving. When using a framework, programmers can draw on the knowledge of other programmers to add the functionality they want and fix any issues.
Popular JavaScript FrameWork
AngularJS
A structural framework for dynamic web applications is AngularJS. It allows you to enhance HTML's syntax to express your application components succinctly and unambiguously while still allowing you to utilize HTML as your template language. Data binding and dependency injection help you write less code than you presently do. And since everything takes place within the browser, any server technology can work well with it.
Node.JS
Node JS is said to as non-blocking since it starts a function in a call-back queue rather than waiting for any output or input.
Additionally, it is lightweight because it is event-driven. Additionally, it aids in the development of scalable real-time applications and quick networks. It uses the idea of cluster-based performances to cut down on the amount of time needed.
Vue.JS
The "progressive" JavaScript framework is what Vue.js calls itself.
Model-view-ViewModel (MVVM) is the architectural design pattern used by the framework. With the use of this pattern, the application's business logic, or model, is separated from the graphical user interface (UI), or the view. A converter media that synchronizes data is the view model layer.
React
Facebook created the JavaScript framework React to make creating interactive user interfaces (UIs) easier. React Native, a related framework for creating mobile applications is built on top of it.
Final Words
Finally, JavaScript is the web development technology of the future. What framework is used ultimately depends on the functionality and capabilities required?
A large number of websites on the internet, including Google, Facebook, and Airbnb projects, are powered by JavaScript frameworks like AngularJS, React, or Vue.js. There are several JavaScript frameworks available to developers today, which ultimately benefit their clients and end users.
About Coregenic Softwares – Coregenic Softwares is a global-based Digital Marketing and IT solutions provider. We are a team of highly professionals who aim to provide your organization with every help in Digital marketing and the IT field. We have successfully worked with 1000+ organizations making them smile.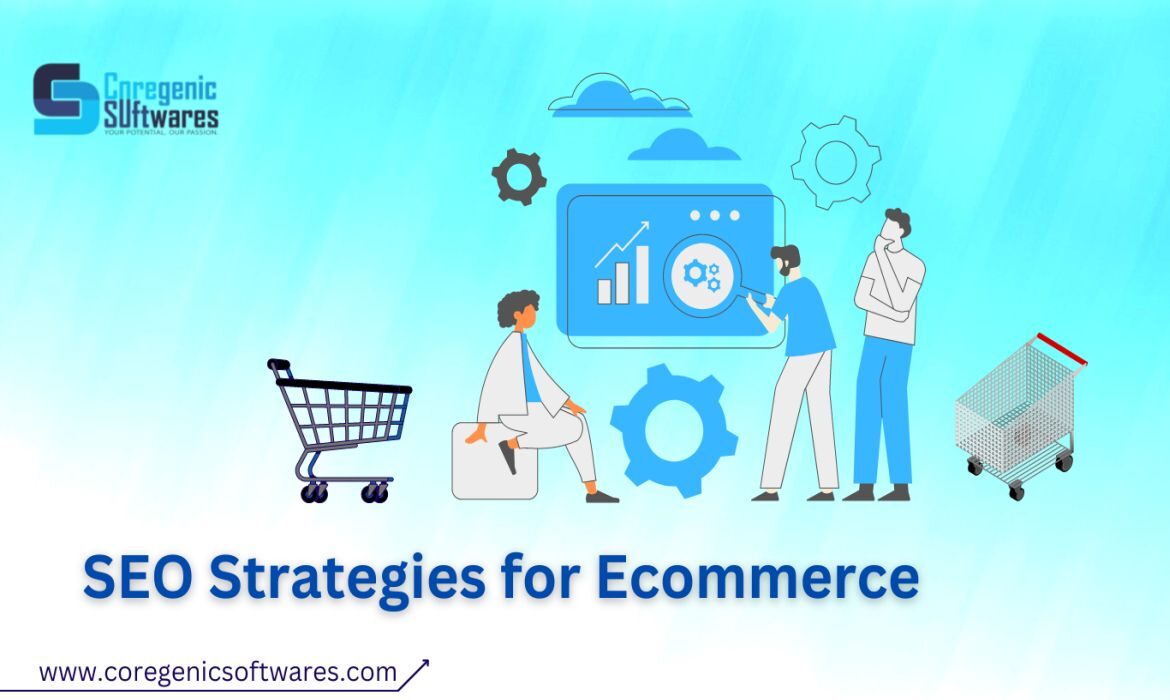 What is SEO?
If I define search engine optimization or SEO in easy language so it is the process of improving your website to increase its visibility in search engines like Google. SEO has become an essential part of modern business to gain potential customers.
What is an E-commerce Website?
The full form of e-commerce is electronic commerce, the name simply defines itself that buying and selling goods and services over an electronic system, primarily the internet is known as e-commerce, all the online shopping we do on websites like amazon, Flipkart, etc e-commerce websites.
SEO for E-commerce
If you have a business where you sell products so it is very important for you to have an e-commerce website so that you can reach more and more customers. It is the 21st century the age of the internet where no buyer wants to go out shopping because they can have anything at their home easily. Over the year the advent of Amazon and Flipkart, e-commerce has become the need for every business and we see an amazing growth of E-commerce websites.
According to statistics there are over 26 million e-commerce websites on the internet and every day their numbers are increasing more and more with such huge competition there is only one thing that can help your website to outstand this competition and that is search engine optimization.
Today in this blog I am going to share some of the SEO techniques that will help your e-commerce website to rank better on Google and other search engines.
Techniques for Better SEO
There are various techniques in Search Engine Optimization that can help your e-commerce website to rank better on google and other search engines:
Use Effective Keywords
We often hear the term keywords in our everyday life, A keyword can be one word or many words, they are important because they play an important role in search engine optimization.
Keywords are the terms or phrases that people use in search engines to find information that they are looking for. Keywords are essential for SEO because they tell search engines about the content of your webpage. If someone searches for the keywords that match the keyword on your website so your website will show up in search results.
Now it is very important to find the correct keywords for your website or content, there are some ways by which you can figure out the right keywords for your website like :
Think like a user
Now before deciding the correct keywords for your website or content you have to think like a normal user, you have to think of all the phrases that he might use to look for the product or service that you are providing.
For example, if you are a company that deals in fashion, you should use the keywords like designer shirts, solid t-shirts, etc because users normally search these words to access fashion websites.
Research
Research is the important part of deciding the perfect keywords, you have to know about the trending searches, have to gather insight from your target audience, and have to get an idea of what people are searching for.
There are various ways to do keyword research you can access tools like keywordtool.io. here you can find suitable keywords for your website. Even in Google Adwords, you can use a keyword planner to get the best keywords for your website.
Quality Keywords
Quality is always better than quantity. I have seen people using a lot of keywords in their content or website assuming that it would bring traffic to their website but rather than using Every word as a keyword the better option is to research, find appropriate keywords and use them.
Quality keywords are proven to be more beneficial than the number of keywords.
User-Friendly Website
First of all, you have to keep in mind that whether you have an eCommerce website or any other kind of website, it needs to be user-friendly if you want visitors to stay there. Research conducted by Google says that an average user leaves a website within 3 seconds if he finds it unattractive so it is necessary to build an attractive website.
Attractiveness for a website becomes more important if it is for e-commerce. E-commerce websites are not like other websites where someone will come to gather necessary information and will go but on e-commerce websites, people spend a lot of time looking for the desired product thus your website should be easy to navigate and must look attractive and trustworthy.
Write an amazing product description
Now for an e-commerce website, the content becomes more important. At the showroom, one can physically touch the product but on a website he can only read the content thus it is very important to write good and well-detailed product descriptions with selected keywords.
Your description should inform everything to your visitor because if your content is well structured so consumers will trust you as a product seller.
Highlight positive customer reviews
Research says that a normal user sees at least ten positive reviews on a website before making a purchase thus it is very important for you to leverage your positive reviews to earn customer trust plus positive reviews also provide an important role in maintaining your rank on search engines. In short, you can say that the more positive reviews you get the more online traffic you will earn.
Social Media Marketing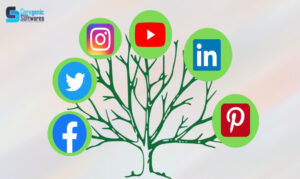 There are a total of 4.70 billion social media users around the globe and a normal user stays hooked up on social media for more than 2 hours and 30 minutes a day, which makes it a perfect spot to show your product. That is why many brands are using social media as a marketing tool to get to their target audience.
For e-commerce, social media marketing is more important because most youngsters are engaged there for most of their time which makes it a perfect market for your e-commerce website.
Conclusion
Not only for e-commerce but search engine optimization is important for every website. There is a huge competition on the internet and if you want your website to stand out from this competition so you must have the best search engine, optimization experts.
About Coregenic Softwares – Coregenic Softwares is a global-based Digital Marketing and IT solutions provider. We are a team of highly professionals who aim to provide your organization with every help in Digital marketing and the IT field. We have successfully worked with 1000+ organizations making them smile.
Choosing between flutter and React Native is like deciding which football player is better: Ronaldo or Messy.
Flutter and React Native
Without any doubt with 6.648 billion smartphone users around the globe which is 83.37% of the world's population, app development is playing an important role in the world of development. Every company whether it is a big brand or a budding one, whether it deals in fashion or education or item delivery, everyone is spending money on app development.
But before starting app development it is always important to choose the correct framework, a good framework can reduce developers' effort and save time.
Now there are two most popular frameworks for app development that are react native and flutter and it has always been very difficult to choose one of them. In a survey, it is found that 42% of developers around the world use React Native while 39% choose to use flutter for app development.
If you are developing an app and you are confused to select react native or flutter so don't worry here in this blog we are going to discuss all the pros and cons of both frameworks so that you can choose wisely.
What is Flutter?
The story of flutter started in May 2017 when Google shared its idea with the world and then in 2018 Google released its first version since then the platform is gaining more and more popularity every day. Nearly 39% of developers are using flutter now.
One of the biggest reasons for such rapid and huge popularity of flutter is that it enables you to create a cross-platform application using a single codebase.
Normally a company has to hire a whole team of various tools and developers to create an application like they need to hire a person for web development, one for C# and Java to create the desktop version of the application, and one dedicated Person for the development of Android and iOS apps development. And we all know that teamwork is always time-consuming because it needs meetings to make sure that the work is going in the right direction.
But with flutter, there is only one code to manage thus only one developer can create apps across those different platforms. This reduces the time and resources required for app development.
Pros of Flutter
Single codebase which makes development quick.
With hot reloading, experimentation and bug resolution becomes simple.
With Layered architecture, it becomes easy to maximize customization abilities and control.
Amazing documentation
It can separate UI prevents error
It provides a user-friendly design.
Cons of Flutter
As we all know that flutter is a young framework thus it has some common issues that aren't easily rectified.
Apps developed on flutter took a longer time to download and took more Space on the device.
There are impressive libraries at Flutter but they are not as productive as native development.
Some famous applications developed:
Google ads
KlasterMe
Reflectly
Postmuse
What is React Native?
The story of Reactjs starts as a Facebook internal hackathon project in the year 2013. It made its first public preview in January 2015 at Reactjs Conference and in March of 2015, it was made open and available on GitHub.
React native is the most popular cross-platforming framework. Around the world, nearly 42% of developers prefer using react native for application development. It is created by Facebook with a codebase written in JavaScript, with react native it is simple to create a cross-platform application.
One of the best things about React Native is that it is an open-source JavaScript framework that is designed to build apps on multiple platforms like iOS and Android via the same code base.
Pros of React Native
React Native uses the widely popular Java script language thus it has an extensive base package.
As we know it has one code base which allows developers to develop apps for multiple devices at the same time.
Here developers have freedom of choice because it facilitates code reuse and cost saving.
One of the biggest advantages of using react is that it has huge community support so if you face any bug there are a lot of people to help you.
If you are a react developer you can easily learn to react native.
Cons of React Native
It needs Native developers only.
If we compare it to flutter so it has poor performance.
It faces debugging issues very often.
Its UI is fragile.
Famous apps developed on React Native
Walmart
Tesla
Facebook
Bloomberg
Wix
Now we have discussed all the pros and cons of using flutter and React Native. If you still have some doubts so now we are going to discuss some key differences between both frameworks.
It is true that Flutter and React Native share a lot of similarities but they also have a lot of differences, for starters, if we talk about similarities between the frameworks so both use C- style type of syntax and object-oriented principles which makes their designs similar but if we take a look at differences so we will find that Flutter uses Dart programming while React native uses JSX.
Now let's dig deeper and find some other differences in the frameworks:
Documentation
They both have excellent documentation which makes it quite easy for programmers to start developing apps. But because flutters documentation is nicely formatted, structured, and detailed thus it is easy to understand while React Native's documentation is not straightforward and is highly dependent on community-developed dependency libraries which means it is not well organized
Dynamic vs Static programming
If we talk about Flutter and React Native as Core programming languages, there is a major difference between them.
The nature of Java script is dynamic which makes it versatile because here you can change the value of various data types, while the dart is both dynamic and static which allows it to build the best of both.
Project size
Without any doubt, flutter apps are large and which take up more space than the device on the other hand Application of react native also has a bigger build size but it can be reduced by Hermes and ProGuard.
Layout
Flutter uses a widget style for its user interface while React uses Javascript and JSX
We get pre-made widgets with flutter so you don't have to create your custom widgets. Both flutter and React Native use CSS Flexbox for constructing layout but they both have different styles of implementation with Flexbox you don't have to be worried about building layout for your app.
Conclusion
Without any doubt flutter as well as React native both have their pros and cons and it depends on your app developer and your need that which tool you want to choose for your app development.
About Coregenic Software – Coregenic Softwares is a global-based Digital Marketing and IT solutions provider. We are a team of highly professionals who aim to provide your organization with every help in the Digital marketing and the IT field. We have successfully worked with 1000+ organizations making them smile.